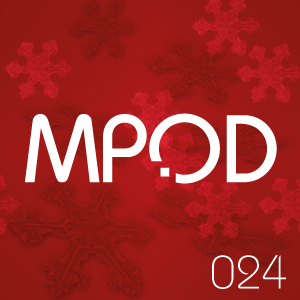 MPOD 024

, a pre-Xmas, office party warm up from

Justice

. Previewing forthcoming 12 of PFM/Jason Os 839 LP remixes, Wet Static from Control Remote and a host of Amen rollers to get you in the mood for the party season. Add to this a hint of detroit techno, some Brazilian beats and an early Xmas gift from Diamond Eye.
TRACK LIST:

1 TOUCH FEEL (PFM RMX)-JUSTICE/METRO/MOMENTUM-MJAZZ 12"
2 WET STATIC-CONTROL REMOTE-MJAZZ DUB
3 NO VISION - MANTRA-DUB
4 SURE SHOT- BOUNTY KILLAZ-CREATIVE WAX
5 DANUBE ROGUE- PK & FONIQZ-DUB
6 UNINSPIRED- DIAMOND EYE- MJAZZ DUB
7 SERIES POD- DREXCIYA-TRESOR
8 UNTITLED- PITTSBURGH TRANSIT AUTHORITY-DUB
9 FRESH 86- TIM REAPER-DSCI4 DUB
10 SOME PERSONS CHANGE(SUB RMX)-NIC TVG-PCMS
11ESCAPISM PT1-FELIX K-DROP/ALPHACUT
12 PEDRA DA GAVEA- HENRIQUE PIRAI- N/A
13 SOLOMON (JASON OS RMX)- JUSTICE/METRO-MJAZZ 12"